by David "ImpetuousPanda" Gil Nolskog
A Viking-themed GWENT Challenger #4 promises one of the most anticipated tournaments of the circuit, a stellar lineup of hardened veteran competitors and a diverse meta. The tournament, held on September 1st and 2nd, will serve as battlegrounds for a grand total of four returning GWENT Masters champions: TailBot, AndyWand, Hanachan and Kolemoen. Damorquis and returning veteran GameKing will surely serve some much anticipated tournament spice with their unique decklists, and ProNEO arrives with voracious ambition following his recent finals appearance in GWENT Open #6.
With seven players accounted for, only one question remains — who is Alexander "Aethr3n" Prokopiuk, the eighth and final player challenging for a spot amongst GWENT's greats?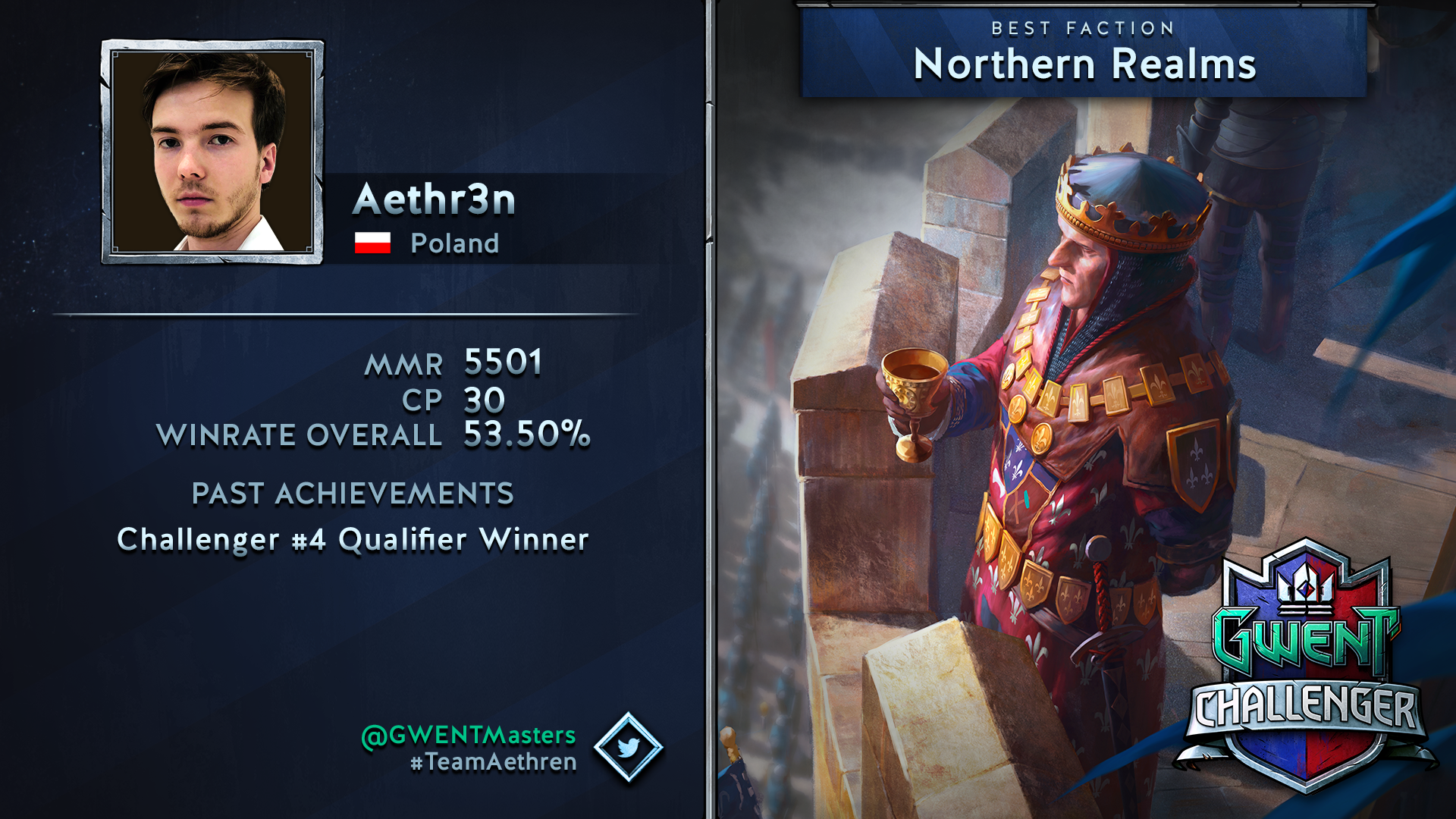 The Underdog
GWENT's online qualifiers require utmost focus forcing players to compete against the best in the world during a gruesome Day 1's swiss phase and following with a nail-biting championship bracket pitting the best 16 players against each other in a double-elimination bracket on Day 2. GWENT Challenger #4 online qualifiers saw Aethr3n, a rookie within the tournament circuit, win a spot to the $100,000 tournament in September alongside returning veteran and GwentSlam Champion, GameKing.
Despite his name being fairly unknown in the current GWENT esports scene, Alexander "Aethr3n" Prokopiuk has been seriously competing within the Pro Ladder circuit since Season 4, he's a veteran player from the Closed Beta period and only barely missed out on the first ever ladder qualification for GWENT Open #1 — a tournament held exactly a year ago during
gamescom — which introduced GWENT Open mainstay Hanachan and popular tournament players SuperJJ, theshaggynuts and eiSloth.
Relinquishing his esports dreams, Aethr3n was faced with a tough decision. After a year of delicately balancing his university life, studying Economics in the UK, the hunger for competitive GWENT finally caught up to him and he took full advantage of his summer break from Season 4 onwards. "Whenever I had holidays I tried to come back, I had a lot of work and my university studies took up the majority of my time, but I always tried to make it work" he says.
Phase One: The Online Qualifiers
Aethr3n simply did not have the time at his disposal for a comfortable qualification through a top ladder placement, and he knew his one big chance was the GWENT Challenger #4 online qualifier. Following an intense theorycrafting phase alongside members of Team Aretuza, Aethr3n was able to bring a fresh lineup he felt confident with. All was going well enough throughout Day 1 of the qualifier until the end of the swiss phase where disaster struck.
"The qualifier was a huge rollercoaster of emotions. In game five of the swiss phase there was a power blackout all around my neighborhood, which typically doesn't happen. I lost the first game because of it, but luckily I had a laptop I could link up to my phone's WiFi hotspot. I ended up winning both games after that and took the series 2-1, but there was no way my laptop's battery would make it for the final games of the swiss phase. I drove to a restaurant a few miles away and begged them to let me set up there. Thankfully they said yes, and I ended up playing the last two games of the swiss phase there. I was able to keep my hopes alive for the Challenger qualification, it was a huge relief" he recalls.
This Polish player's emotional rollercoaster would go on for yet another day, with a round 1 loss in the championship bracket forcing him to muster up all his willpower and go on an almost impossible loser's bracket run. Aethr3n was on the road for revenge. He got it in the loser's bracket final, after defeating the very same opponent that had 3-0'd him earlier that day. This secured his qualification spot for GWENT Challenger #4 alongside GameKing, who breezed through the championship bracket without a single loss. "Situations like these force me to capitalize on my opportunities. Everything aligned perfectly for me, I took advantage of it and in the end I'm really happy with how things turned out."
Phase Two: The Preparation
After having participated in the Red Dragon Championship in the Czech Republic earlier this summer, Aethr3n was able to acquire some degree of big stage experience. Even so, he knows he will really have to step it up for GWENT Challenger #4 if he wants to compete against one of the most stacked lineups to date. With five prior GWENT Champions, and ProNEO and Damorquis putting in better and better performances every tournament they compete in, Alexander has a tough road ahead of him. "Experience is one of the most important things when playing tournaments. When you're playing under pressure it's very different from playing in a relaxed setting at your PC. Even so, I think everyone will have a very similar chance to win the tournament, it'll depend mostly on the decklists and the different matchups that occur when the bracket is announced" he says.
August has already been a month of intense preparations for him and Aethr3n will still have to think about his decklist choices carefully in order to challenge a diverge group of players. Some, like ProNEO or Hanachan generally bring more consistent and established decks, that statistically perform well but can be targeted if they're expected. On the contrary, Aethr3n identifies himself with a more creative group of players, and admits he has found inspiration in GameKing and Damorquis, who prefer bringing decks tailor-made for specific tournament metas trying to identify the weaknesses of certain meta decks. Regardless of the decklists themselves, Aethr3n thinks each player's mental state and emotional control is also extremely important in a tournament setting.
"I really think TailBot is one of the best players. And not just in tournaments, but in the Pro Ladder. I think it's because he's untiltable. He plays every game fully focused and he's definitely one of my inspirations. I wish one day I'll be able to control my own emotions like he does. It's especially important when playing on Pro Ladder. You tend to just spam games and never stop to think between matches all that much. I believe it's super important to have a very rational approach and try to learn from all of your games, analyze why you won or lost and then continue playing." he advises.
GWENT Challenger #4 will be a turning point for Alexander Prokopiuk, and depending on the experience he may even reconsider the fateful decision he took a year ago. "This Challenger will be a huge experiment for me. GWENT is my passion right now, if I can make a living out of it of course I'd love to do so. I know it's not that easy, you have to be the best, and to be the best you have to win the Challenger" he says. Damorquis was faced with a very similar decision a few months back, and so far he's had great success, attending every single GWENT Masters tournament since that GWENT Open #4. Now a different question remains — will Aethr3n return to his economics degree in the UK, or attempt to live the risky yet rewarding lifestyle of an esports pro?
Tune in on September 1st – 2nd for GWENT Challenger #4 and watch this underdog story unfold!