The battle is about to begin. On one side: proud forces of Northern Realms. On the other: powerful Nilfgaardian Empire. Who will emerge victorious? Choose your side!
Throughout a week of intense skirmishes, the most loyal supporters of both factions will be rewarded with these spoils of war: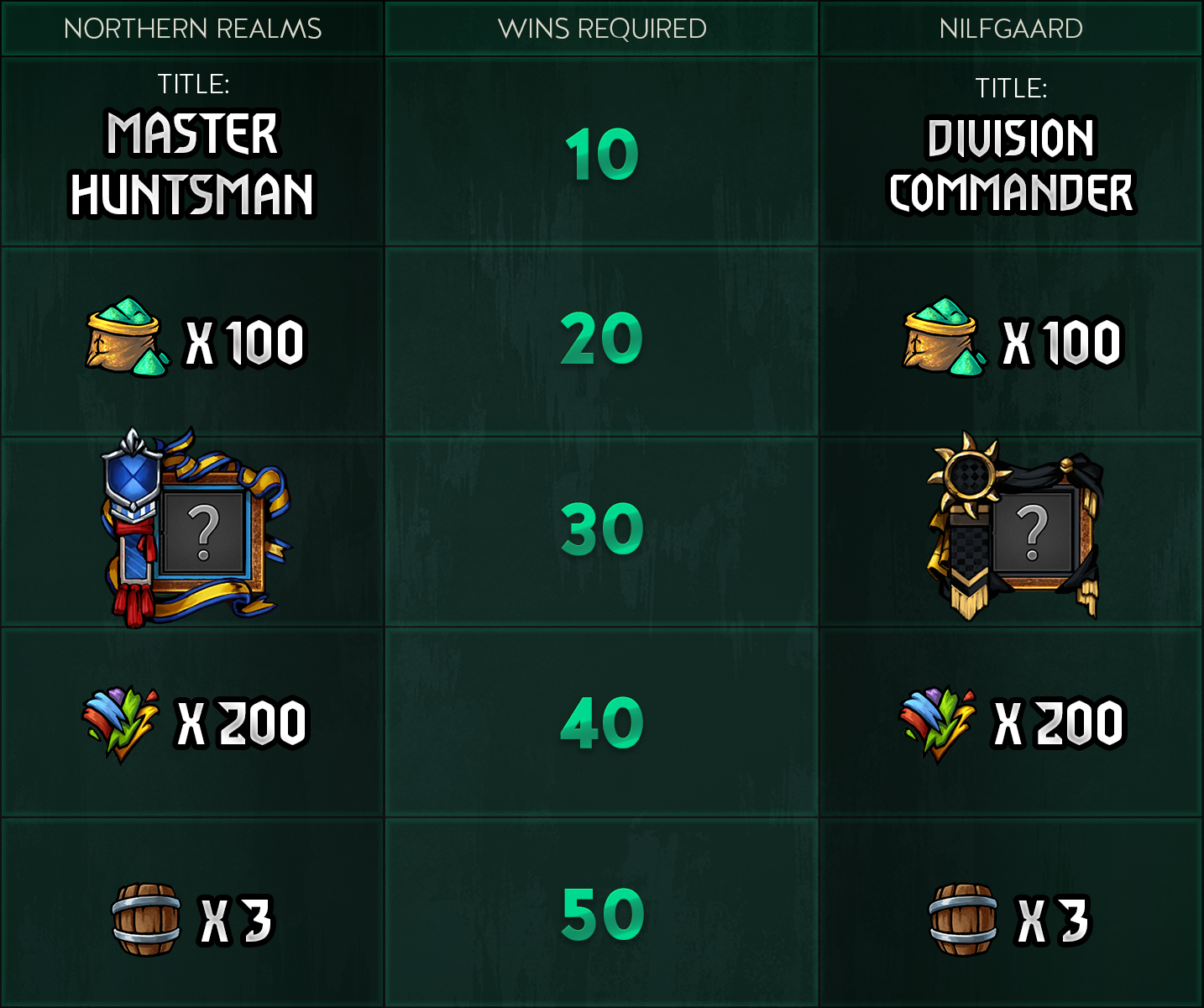 In addition to the rewards listed above, we'll be launching another Faction Keg Week. This time, all three cards in the "Choose 1 out of 3" part of the keg opening will belong to the winning faction, and there will be a guaranteed premium card from the losing faction in the initial choice of 4 cards. The event will last from Wednesday, June 27th, 12 PM (noon) CEST till Monday, July 2nd, 12 PM (noon) CEST, and will affect all players, regardless of whether they participated in the Faction Challenge or not.
Faction Challenge will end on Tuesday, June 26th, 12 PM (noon) CEST.
HOW TO PARTICIPATE:
Go into the Faction Challenge tile located in the in-game News section.
Choose one of the two warring factions you wish to support: Northern Realms or Nilfgaard.
Play and win games with your faction across Casual, Ranked and Pro Ladder modes to unlock faction rewards.
—————————————————————————————————————————
Games won before committing to a specific faction will not count toward your challenge progress.
Your challenge progress is determined by wins against all factions: those participating (Northern Realms, Nilfgaard) and not participating (Scoia'tael, Monsters, Skellige) in the challenge.
Playing games via friend challenge or in the Arena will not count toward your challenge progress.
After reaching a milestone, you will immediately receive a corresponding reward.
Information about your completed milestones can be found in the in-game Notifications tab (Social Panel).