by Alex "sprackles" Sprackling
Could someone please pass the salt? This weekend saw Scoia'tael take over the Wieliczka Salt Mines and bring Pavko Gale and friends to life. Choosing to hold the event so far underground was an ambitious decision, but the production value — as is the case for all GWENT events — was exceptional. Being able to witness the event as it happened was an education, and I'm grateful to the whole team for making me feel welcome. For those of you who couldn't watch the full thing — prepare to read about Arachas Drones swarming the board and many bamboozles as we look back at the action.
The Champ is back
Day One kicked off with a David vs Goliath matchup in the form of closed beta veteran Cmel taking on Freddybabes — the returning champion himself. But the opening Skellige mirror was a rough one for the British compLexity player. Cmel's Greatswords were favoured against Freddy's Cursed Bear list and, despite the returning champ boldly opting to strengthen his Heymay Protector for R3, Cmel was able to scrape a 2-point victory.
But it was the following game where Freddybabes lived up to his reputation. In the past, we've seen him bring some eccentric — okay, okay, spicey! — tech choices. Everything from the fan favourite Lambert to playing unbuffed Dun Banner Heavy Cavalry in Open #2. This time, however, Freddy had brought an Arachas Queen list that was a far cry from the traditional all-in approach to Nekkers. Instead, Freddy's list, while still running Nekkers, brought back a staple of closed beta — the Arachas Behemoth/Arachas Drone package.
Speaking to Freddy before the game, he told me how this deck was intended for the Red Coin and relied heavily on drawing Germain and avoiding Henselt. This certainly explains his Northern Realms ban. And fortunately for him, not only was he able to draw Germain, but he proved he was here to win with an early Yennefer, killing all four beasts and spawning all three of his Harpies in one turn. This threw off his opponent and forced out his Eithné to use Artifact Compression on an Arachas Behemoth, paving a safe route for Freddy's Nekkers. The returning champ won his set 3-1.
Passing on the curse
Next up, saw the king of the pro ladder Adzikov taking on Challenger #2 runner-up — Kolemoen. With Adzikov, still having a curse hanging over his head, and Kolemoen recovering from SuperJJ's hardcore targeting in Open #4, both players had a lot to prove. The viewers favoured Kolemoen, casting him as the winner of the Twitter poll. This seemed like the correct choice, especially as Adzikov fell victim to RNG in the first game — after playing Harald Houndsnout, the deathwish effect strengthened one of his remaining skulls and denied the Dimun Longship combo. That said, Adzikov was able to recover and win by one point in a close first game.
Both players then treated us to a mirror match. This time, it was ST swarm with a Ciri: Nova finisher, which Adzikov was able to win, leaving Kolemoen fans on the edge of their seats. Unfortunately for them, he was unable to recover and Adzikov secured a shocking 3-0, which would go on to become the theme of this day. Despite a shaky start to the tournament scene, Adzikov is a player who learns from his mistakes and is always improving. His day one performance proved this.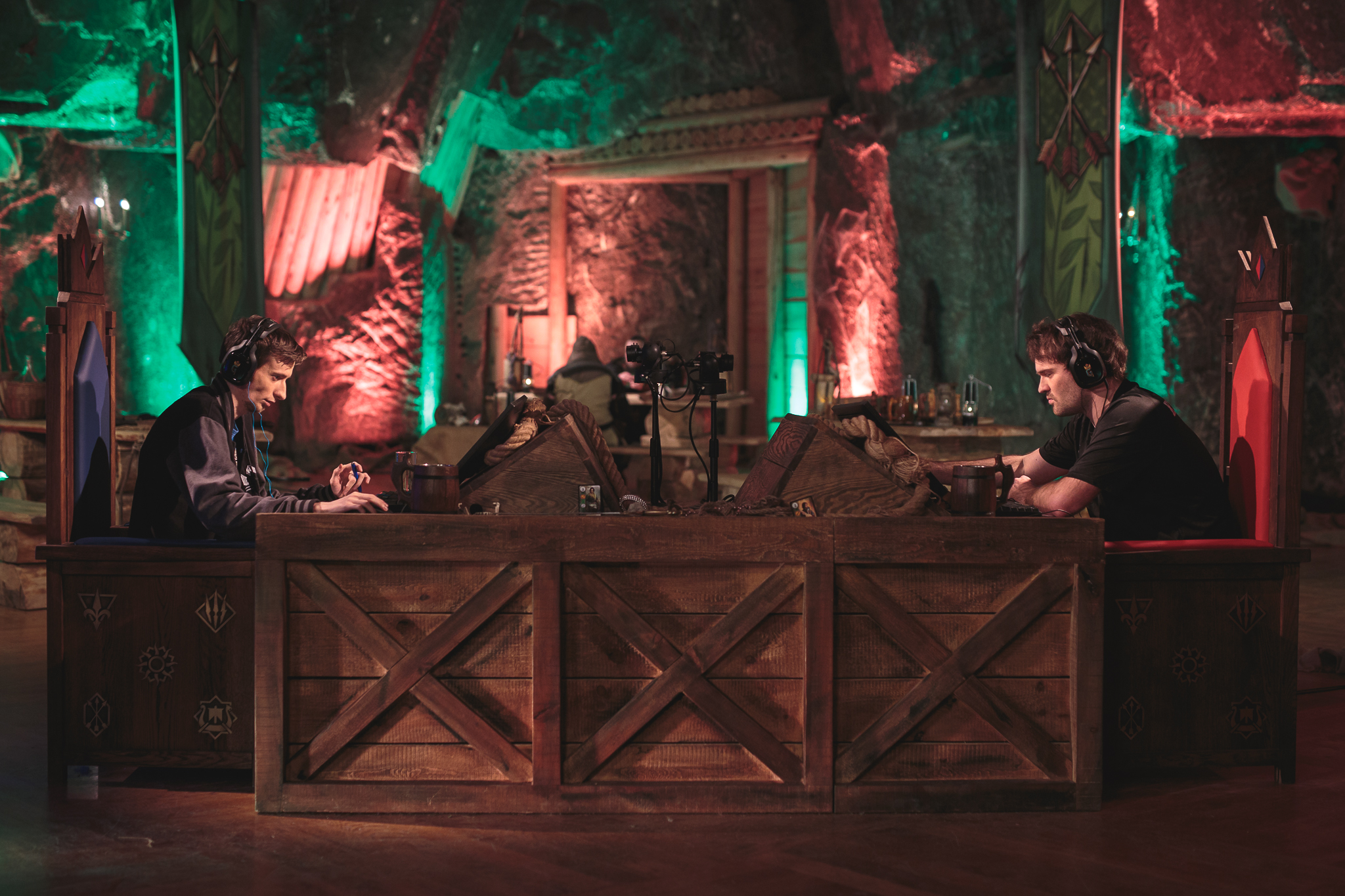 The Targeter Becomes the Targeted
In a grudge match worthy of being a final in and of itself, compLexity's SuperJJ took on Huya's Hanachan. These two GWENT tyrants previously clashed in the first Open and are widely considered to be two of the most equally matched competitors. They had both earned their place through winning a previous Open tournament, and the Chinese competitor was looking to settle the score with his German rival. They also confronted each other in the first Open tournament, where JJ was able to secure the victory.
Known for his hard targeting, SuperJJ was living up to his reputation and was showcasing a different approach with a slice of Greatswordophobia. His entire lineup was centered around defeating Crach Greatswords — a dominant deck on the ladder and Hanachan's favourite in the last GWENT Open. Not only that, but the first game saw a visit from the Ghost of Meta Past. To compliment his Greatsword targeting, SuperJJ was playing an old Nilfgaard Spies list that utilised triple Vicovaro Medics in order to hate on Skellige's Graveyard. This was a tier one deck many months ago and had fallen out of favour to the new kid on the block — Calveit Alchemy. And who'd have thought it, this was the first game we saw from these two players — the old vs. the new.
Sadly for SuperJJ fans, the Ghost of Meta Past was unable to scare off the Chinese player, who was able to defeat him with his refined Alchemy list. The next game also went to Hanachan, but left him with his Greatsword list — a deck that he had dominated with, in the last Open. In a past recap, I spoke about ban baiting, which Hanachan seems to have done with his Henselt list in the last Open. Using Henselt as ban bait allowed him to play his Greatswords, which dominated his match with Damorquis, and eventually received a respect-ban in the final. Therefore, SuperJJ, deciding to target the archetype came as no surprise to me.
And yet again, Hanachan's consistency prevailed. Many were expecting SuperJJ to reverse sweep his opponent — a feat he managed against Kolemoen when he was targeting Arachas Queen. But fans of GWENT around the world could be heard chomping on their nails as SuperJJ decided to open the Greatsword games with his own Arachas Queen — arguably the worst of his Greatswordophobia lineup. The German compLexity player was relying on playing his Caretaker in R3 to steal Hanachan's strongest Greatsword for himself. But the Chinese player chose to push hard in R2 and thus, forced JJ to spend all his cards. That still wasn't enough. He fell to a 3-0 defeat against the matchup he wanted the most.
In TailBot we trust
Our final set of day one saw TailBot, armed with his signature razor sharp tongue, taking on the newcomer, I_aPOROgise. The Australian had earned his place through the Pro Ladder qualifier and, therefore, was always going to be one to watch. This is owed to the ongoing surprise factor of the new faces. Both Freddybabes and Shaggy were once qualifier winners. Even Kolemoen was the runner-up of Challenger event he'd qualified for.
I_aPOROgise had decided to ban Calveit, which, he told me, was to avoid the risk of it clashing with his Handbuff Nilfgaard, often unfavoured against Alchemy. Even so, it didn't really matter, for TailBot had also opted to ban Nilfgaard — a poetic outcome since the Scoia'tael had taken over a Salt Mine!
But qualifier or not, TailBot was on the top of his game, both in smack talk and performance. He was able to defeat Red Coin Henselt — dream victory for most tournament competitors. This not only put I_aPOROgise on the back foot but also meant, he had to avoid tilt after a hiccup in his second game. He mistakenly chose to Restore a Dimun Pirate Captain that had no targets in R3, which cost him the game. Despite keeping his cool, he fell to a 3-0 defeat, the third one of the day. Are you noticing a trend here? Fortunately, we had enough salt on hand to go around!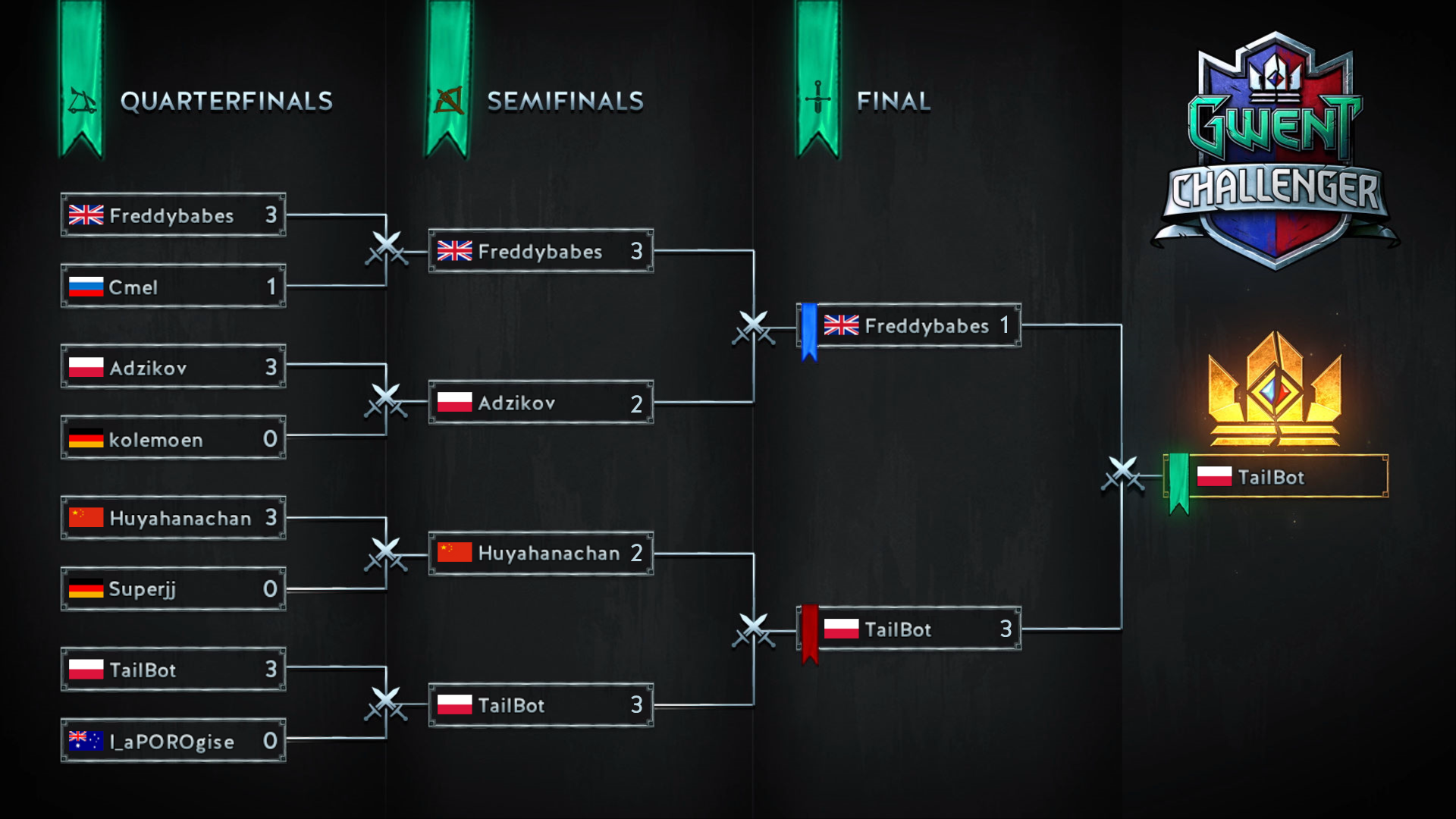 Germain or Bust
Day two kicked off with Freddybabes clashing with Adzikov. The returning champ had raised many eyebrows with his unique approach to Arachas Queen. Speaking with him, he told me how he was fully aware of the deck's high roll nature, but was ready to take the risk, believing that sometimes you have to go for the high risk/high reward approach. And high roll he certainly did. He was unable to secure Germain in the pre-game mulligans but, with three silvers already in hand, he made a calculated risk and was rewarded, with Ge'els. This enabled Freddy to set up a devastating combo with his leader ability to pull all three Arachas Drones and Harpies. Freddy took the first game and the second went the same way, which saw him make a clutch decision to open pass on blue coin against Adzikov's Dagon Deathwish.
This put the returning champ in a favourable position, giving him three attempts to win with his Henselt, two of which would be on Red Coin. However, the RNG Gods came to dish out a plate of karma, and Freddy entered R3 with a bricked Dun Banner in hand. He would lose this game, as well as the following, setting Adzikov up for the reverse sweep. And the final game was one of the most tense we've ever seen in competitive GWENT.
Freddy was running Siege Towers specifically to counter Alchemy, but Adzikov was able to spike an Auckes with his Runestone and deny the crewmen synergy. But this game was far from one sided. An early pass from Adzikov forced Freddy to save Henselt until later on, where he would be most vulnerable to the Viper Witchers. That said, Freddy showcased how skilled he was in a tournament environment with knowledge of his opponents decks. He was able to successfully bait out Adzikov's Viper Witchers and, after shuffling a locked Ronvid back into his deck, pulled it from Thaler and gave Henselt the green light. He won the set 3-2 in my new personal favourite set in GWENT's history.
Reverse Sweeps Aplenty
Following a double Calviet ban, Hanachan and TailBot clashed to see who would face Freddy in the final. Hanachan decided to open with his Greatsword deck, and watching him play this archetype is always a pleasure. Knowing TailBot was running Villentretenmerth in his Henselt, he chose to push hard in R1 to leave as few cards as possible. Even so, this left him down one card, but didn't stop from pushing all the way in R2, in order to force out the golden dragon himself. Both players were sent into top deck mode, where we almost saw a re-game, with both players drawing special cards.
Fortunately for the Chinese player, he chose to redraw and was awarded with a Greatsword. The next game would also swing to Hanachan, setting him up for the 3-0 and three attempts with Brouver Hoog. But if there's one thing we learned from today, it's to always prepare for a tight set. And that was exactly what we got. The final game saw Tailbot playing his Dagon Consume list, where Hanachan made a questionable pass in R2 and left R3 as anyone's game. The Chinese needed to draw Schirru to stand a chance against the Polish players' Nekkers, and Hanachan's Officers, as well as Triss: Telekinesis, gave him plenty of opportunities to do so. Unfortunately, it still wasn't enough and ultimately, Hanachan conceded the game.
This brought the second set of day two to yet another fifth game. TailBot has blown his first two games in the past to perform the reverse sweep, and he was in a good position to make the same move this time around. He was playing Bran on Red Coin, against the notorious Elf Swarm. The Polish player opted to push hard in R2, despite being a card down, and was able to force the extra card out of Hanachan. The final round saw Hanachan's golds go up against the more refined bronze and silver core of TailBot's King Bran, which secured the victory for the Polish smack talker. Yes, that's right. Day one was about the 3-0 stomps, but Day Two was all about the reverse sweeps.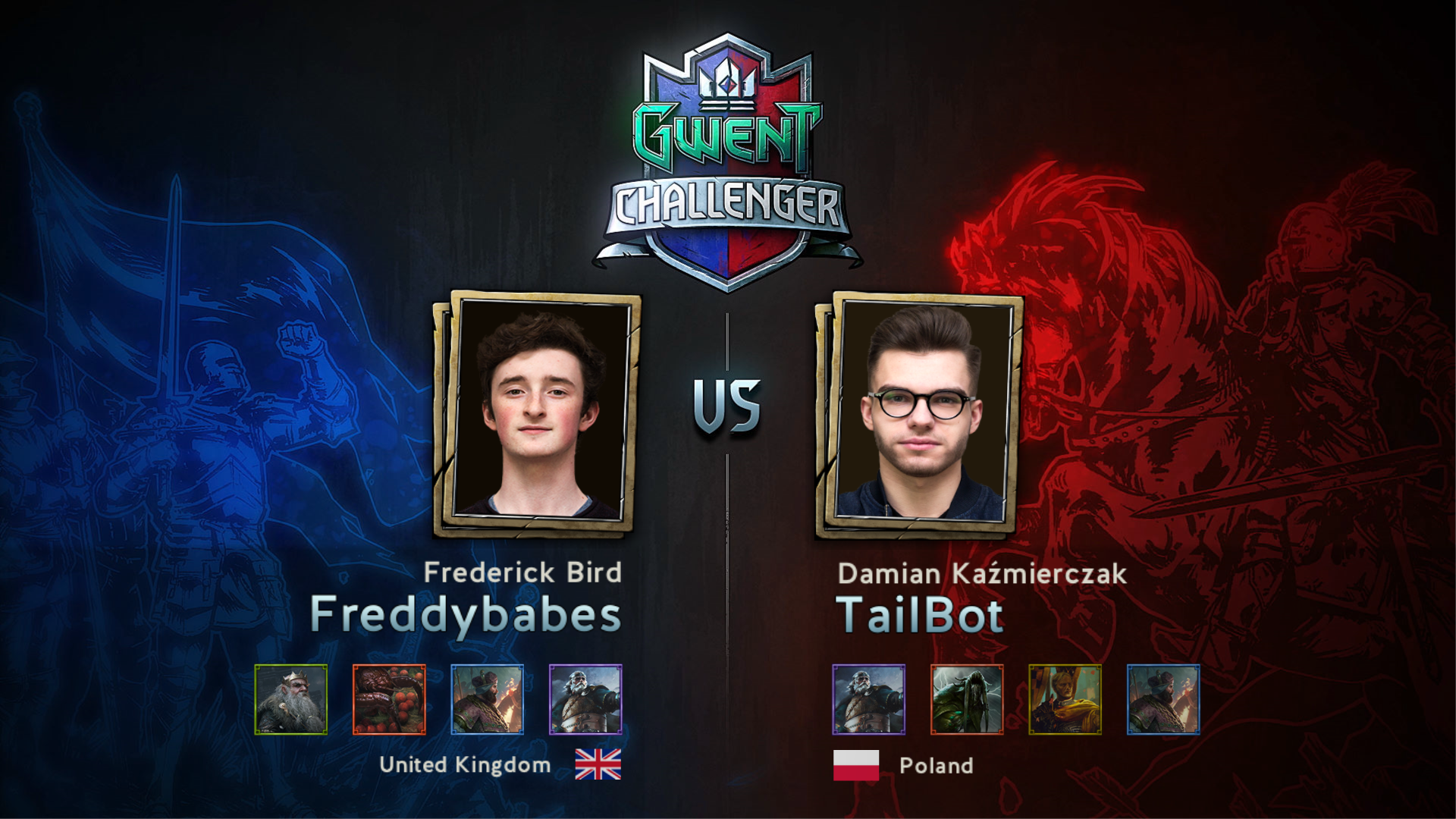 Game of De-Throned
This was a GWENT Masters first — a champion taking on a god. TailBot's Dagon Consume bamboozle had proven to be so strong that Freddy respect-banned it. This left his lineup vulnerable to Henselt, which was what he was fearing the most. And, even with Freddy picking up the first game with his own Henselt, it was this respect-ban that would set the pace for the set. TailBot, meanwhile, was sticking to a gameplan of shutting down Scoia'tael Swarm, so opted to ban the King Bran list. The fate of these two players was on whether Freddy could secure the win with his Scoia'tael list.
Expecting Freddy to play Arachas Queen on Red Coin, TailBot made a calculated choice to play his Henselt in the second game, which would be heavily favoured against Freddy's Arachas Drones. Even if Freddybabes has a reputation of winning unfavorable matchups, this wasn't the occasion. TailBot was able to equalise the score and became the only player of the weekend to take down Freddy's Arachas Queen.
The next game saw Freddy quite literally praying for a Ciri: Nova mulligan in the final round, which he desperately needed to win against TailBot's consistent King Bran list. Despite hitting the Nova and being a card up, TailBot's bronze and silver core once again proved to be too many points. This put TailBot in a favourable position, with two chances at an Alchemy win.
Our final game saw Freddy try to salvage the set with his Arachas Queen on Red Coin. TailBot, however, decided to pass early after the returning champ played his first Behemoth in R1. This left Freddy with his low tempo Harpies still in his deck, and he fell victim to drawing not just one, but two of them in R2. Despite an attempt to bleed TailBot, he was still unable to efficiently pressure his opponent and entered R3 with the Harpy still in hand. If that wasn't enough, the other Harpy showed its face one final time, giving Freddy a forced mulligan that still didn't 100% clean his hand.
In this final round of the set, and the event, both players played at their absoloute best, but Freddybabes was always playing from behind. TailBot's Alchemy lineup, with its Mandrake and Vilgefortz, was able to shut down the British compLexity player. The fan favourite TailBot, equipped with skills that were even sharper than his wits, was able to secure the victory and win the day. However, the now de-throned champ Freddybabes would go away with $16,000 in his pocket, so we're sure he's not too salty! Our new champion TailGod (one time, I promise), in a post game interview with Jaggerous, explained how he considered Freddy's Monsters deck to be overrated. But hey, let's take that with a very large mine of salt.