by Alex "sprackles" Sprackling
This weekend saw GWENT Challenger #4 live from Ard Skellig itself where Skellige clan members grabbed their swords, shields and polished their axes to take part in some intense battles. All for a purple and silver encrusted ring — certainly a nice trophy to snag! In addition to a new hosting duo — the dashing Ashlizzle and suave WatchFlake — Shinmiri also joined Swim on the analyst desk. A broadcast team of this capacity, combined with some of the world's best GWENT players, made for one of the best events yet. And the greediest too, but I'll leave that discussion for the analysts!
TailBot vs GameKing — 3-2
Day One kicked off with the returning champ taking on a returning veteran. That's right, this was our first game — TailBot vs GameKing. What more could you ask for in a show opener? While it was a shame to see these two titans of GWENT clash in the first set, they treated us to one of the most intense series I've seen since Adzikov vs Freddybabes in Challenger #3. The returning champion opened with his Skellige list while GameKing, looking to prove himself after a long break from an official GWENT event, led with his Foltest. But it was the fifth game of the series that had TailBot's fans biting their nails. After a ballsy dry pass, GameKing looked to have his opponent efficiently punished with a long R2 to regain card advantage. However, TailBot chose to Muzzle Morkvarg which gave him enough carry over to win by two points.
AretuzaAndyWand vs Aethr3n — 3-1
Our second set saw the Open #5 winner AretuzaAndyWand taking on the new kid on the block, Aethr3n. Just like the previous set, both players opted to ban Calveit and Arachas Queen — a common sight for the rest of the day. The first game saw AndyWand's Nilfgaard Handbuff list overwhelm the newcomer and secure a set-deciding blue coin win. A second victory awarded him three opportunities to win with his Warcry Ocvist deck, a list Swim was delighted to see in action. Aether3n was able to win one game but that result did not continue in the next. He went down two cards in R2 and was unable to pressure efficiently. Andy won the set 3-1.
proNEO3001 vs kolemoen — 2-3
Game 3 saw proNEO3001 taking on Kolemoen, who won Open #6. Both players chose to ban Arachas Queen, which left the German player without the deck he's most iconic for playing. Their first game saw proNEO living up to his love of Sihil — I'll leave the puns to Jaggerous — which he used to close the gap in R2 and eventually win. This victory looked to be crucial, but Kolemoen would later turn things around. In their final game, proNEO was punished for his early dry pass, forced into a long second round and lost 2-3 to the German player.
Damorquis vs LpHanachan — 3-0
The final game of the day was a grudge match to end all grudge matches. In the past, Damorquis had struggled to combat LpHanachan, whose Greatswords had overwhelmed him in their debut clash many months ago. Once again, some very familiar bans came in with Arachas Queen and Jan Calveit. The players opted to lead off with Damorquis on a Nilfgaard Handbuff list and Hanachan on Foltest. Sadly for the Chinese player, Dijkstra was unable to pull through — Damorquis won the game and kept his momentum up for the second. Hanachan also didn't manage to find an Adrenaline Rush with Triss: Telekinesis, thus not having anything to counter his opponent, and ultimately lost 0-3 to Damorquis.
TailBot vs AretuzaAndyWand — 0-3
Day Two kicked off with TailBot taking on AretuzaAndyWand. The two players banned Crach and Arachas Queen respectfully. Because the line-up favoured AndyWand, this set was going to come down to whether TailBot could secure a win with his Brouver Hoog list. That's what he chose to lead off with and queued it into AndyWand's Crach An Craite. The returning champ was unable to find Ithlinne until it was too late. AndyWand's resilient Ciri: Nova won him the game and he kept this up for the next one, too. This put TailBot into 0-3 territory, which we've all seen him overcome before. Unfortunately, his Brouver list just couldn't match the power plays of AndyWand's Foltest and, after a devastating Dijkstra, he won the game securing the 3-0. TailBot himself was one of the crowd's favourites, as we've learned from the pre-game Twitter poll, so this could possibly be the biggest upset in GWENT's history.
Kolemoen vs Damorquis — 2-3
Kolemoen and Damorquis clashed in the decider for AretuzaAndyWand's opponent. The bans were Calveit and Arachas Queen but not in the order you'd think. Namely, Kolemoen — one of the best Consume players — was able to play the deck he was so threatening with, and he proved a dominating force indeed. After a successful opening game where he won a Skellige mirror, Kolemoen looked set to 3-0 Damorquis but fell short in the Foltest mirror. The final game, Foltest vs Crach An Craite, proved too much for Kolemoen. Northern Realms tend to struggle against the Warcry Crach list anyway and this was no exception, with a lack of good targets for Battering Rams. Even so, it was a close final round but Damorquis secured the reverse sweep.
AretuzaAndyWand vs Damorquis — 2-3
And so it came down to this — a TeamAretuza civil war. AndyWand clashed with Damorquis in our first all-German final. Both of these players had practiced together so were well aware of each other's decks beforehand, and they both opted to ban Arachas Queen. The first game took us back to the early days of Closed Beta, with both point totals exceeding 200. It was Damorquis who claimed first blood but the 3-0 dream wouldn't be possible. AndyWand's line-up was geared towards defeating Foltest and the reverse sweep was on. The final game — a Foltest mirror — saw a typically long R3. Unfortunately for AndyWand, he was unable to thin down to his own Knight-Elects, while Damorquis had an insane amount of passive point generation to secure the day.
Of recent events, Damorquis has been one of the most improved players and it's sad to see him retire from the competitive scene. But we're not jealous of his retirement money, not one bit. Honest. GG everyone.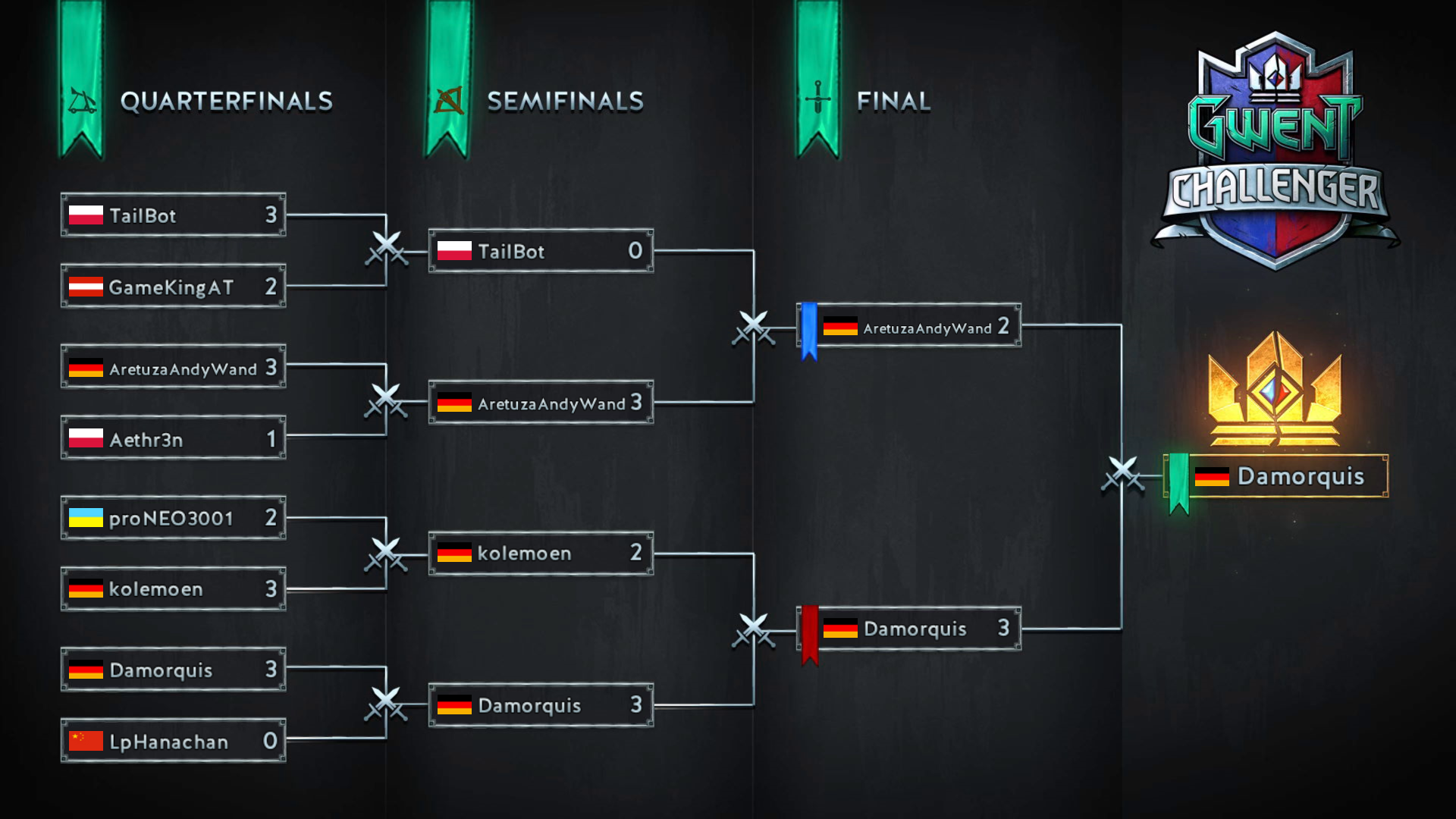 The final standings for the tournament:
WINNER
Daniel "Damorquis" Morkisch (Germany)
FINALISTS
Daniel "Damorquis" Morkisch (Germany) — $57,000
Ilias "AretuzaAndyWand" Karamanis (Germany) — $24,250
SEMIFINALISTS
Benjamin "Kolemoen" Pfannstiel (Germany) — $8,800
Damian "TailBot" Kaźmierczak (Poland) — $2,800
QUARTERFINALISTS
Oleksandr "proNEO" Shpak (Ukraine) — $2,200
Raffael "GameKingAT" Iciren (Austria) — $2,200
Alexander "Aerth3n" Prokopiuk (Poland) — $1,750
Zehua "LpHanachan" Zhao (China) — $1,000