by Alex "sprackles" Sprackling
This weekend saw the sixth official GWENT Open in the GWENT Masters series, and the players proved the meta wasn't on auto-pilot. With everything from Sihil to Imlerith: Sabbath making an appearance, this was one of the most diverse tournaments yet.
ProNEO3001 vs. konsiu95
Day One kicked off with the Closed Beta veteran proNEO3001 taking on the new kid on the block, Konsiu95. Their opening match was certainly a spicy one — which proved to be the theme of the day — thanks to proNEO's Sihil-wielding Crach An Craite taking on Konsiu's Eithné. Sihil is not a card often played on the ladder. This is due to its situational choices, like playing a random card from the deck or damaging all odd opposing units. However, proNEO was looking to prove how viable it was in a tournament setting, and that's exactly what he did to win the first round and enter R3 one card up. Despite a re-game, proNEO was able to go 2:0 up and get three opportunities to win with his Nilfgaard Soldiers, which was more than enough to win 3:1.
Molegion vs. Damorquis
Next up was a Team Aretuza showdown with Molegion making his GWENT Open debut to take on Damorquis, who was looking to break his own "Adzikov Curse" and advance to Day Two. Since these two competitors are teammates and regularly train together, this would be a rare occasion where both players have a day one knowledge of each other's decks. Their opening game was a Whispering Hillock and Eithné crossover. The use of Imlerith: Sabbath certainly wasn't going to make Molegion any friends, particularly when he used the infamous Wild Hunt Officer to lock Damorquis out of the second round. However, it was the RNG of Whispering Hillock that was his downfall. The final game was a Nilfgaard mirror but with two very different decks: Soldiers vs. Alchemy. Damorquis was able to break his curse and win by two points.
Kacper322 vs. kolemoen
In yet another old guard vs. new guard matchup, Kacper322 took on the Challenger #2 finalist Kolemoen. The German competitor banned Jan Calviet while his opponent opted for a respect ban on Kolemoen's Arachas Queen. A wise choice, considering how notorious Kolemoen is for playing the Consume archetype and is, arguably, one of the bests at it. The players opened with a Temeria civil war. Despite the difference in Siege Towers and Trebuchets, the decks were identical and it was Kolemoen's exceptional dry pass that won him the game. It was his clean performance overall that won him the set, including a next level play where he saved his Barclay Els until last so he could pull the one Dwarven Mercenary to shut down his opponent's Djenge Frett and Harald Houndsnout combo.
House_of_cards vs LpHanachan
The final game of the day saw newcomer house_of_cards take on China's LpHanachan. At first glance, the young Russian looked to have the advantage; his decks were control-orientated and heavily teched to deal with Greatswords — an archetype that Hanachan is notorious for bringing. But the Chinese GWENT Open veteran proved to be no pushover, winning the first game against his opponent's Eithné list. He also won the second game so it was all down to whether Hanachan could secure a win with his Crach An Craite list.
The Scoia'tael match proved unsuccessful but, just when everyone thought the Chinese player isn't going to make it, he showcased his resilience in the Henselt matchup. Not only did he tank a Scorch but he also absorbed the Villentretenmerth treatment to win the set. Once again — just like in Challenger #3 and the match against SuperJJ — Hanachan had shown he can't be targeted.
ProNEO3001 vs. Damorquis
Day Two kicked off with two control-heavy lineups looking to… well, outcontrol one another. It was proNEO vs. Damorquis, still celebrating being able to break his Adzikov Curse and advance to Day Two. The first match was Crach An Craite vs. Eithné. While this would be considered a favourable matchup for Damorquis, he fell victim to a dead card in R3. Not only that, but proNEO made an excellent pass early once Damorquis had wasted two Farseers. It was the Closed Beta veteran's beautiful sequencing in the final game of the set that saw him emerge victorious.
Kolemoen vs. LpHanachan
Next up saw Kolemoen taking on LpHanachan with the Chinese player respect banning Kolemoen's Arachas Queen. Once again, this proves not just the power of Consume monsters, but Kolemoen's skill in piloting that deck. Meanwhile, the German player opted to ban Brouver Hoog. Some may think that banning Greatswords would be a wise move, but Kolemoen had clearly done his homework on the archetype and he was ready to face it. Their first game saw Hanachan's Deathwish Dagon taking on Kolemoen's Foltest. After a long Round Three, this game went to Hanachan, who was able to set up Fog for some game-winning nutrition damage. That said, his luck run out when it came to playing his Greatswords. Kolemoen was able to shut down his strategy, and combined with an unlucky Silver spy draw in R3, the Chinese player was ultimately defeated, with Kolemoen advancing to the final.
Kolemoen vs. proNEO3001
Following a brief intermission, the final kicked off with Kolemoen facing off against proNEO3001, who, after crashing out of Challenger #2, was proving to have redeemed himself. Once again, Kolemoen's Arachas Queen was respect banned and Kolemoen himself banned proNEO's Jan Calviet. The first game saw Hoog taking on Foltest in one of my favourite lore-friendly matchups. Luckily for me, it was a tie and a re-game followed, where proNEO forced Kolemoen to go down one extra card in R2 and secure the win. Both players were on top of their game and brought it down to a full five game set. The final was a Shupe mirror in a GWENT Masters first. An early dry pass saw us subjected to a long, tense R3 and it was Kolemoen's perfect sequencing that saw him secure the win.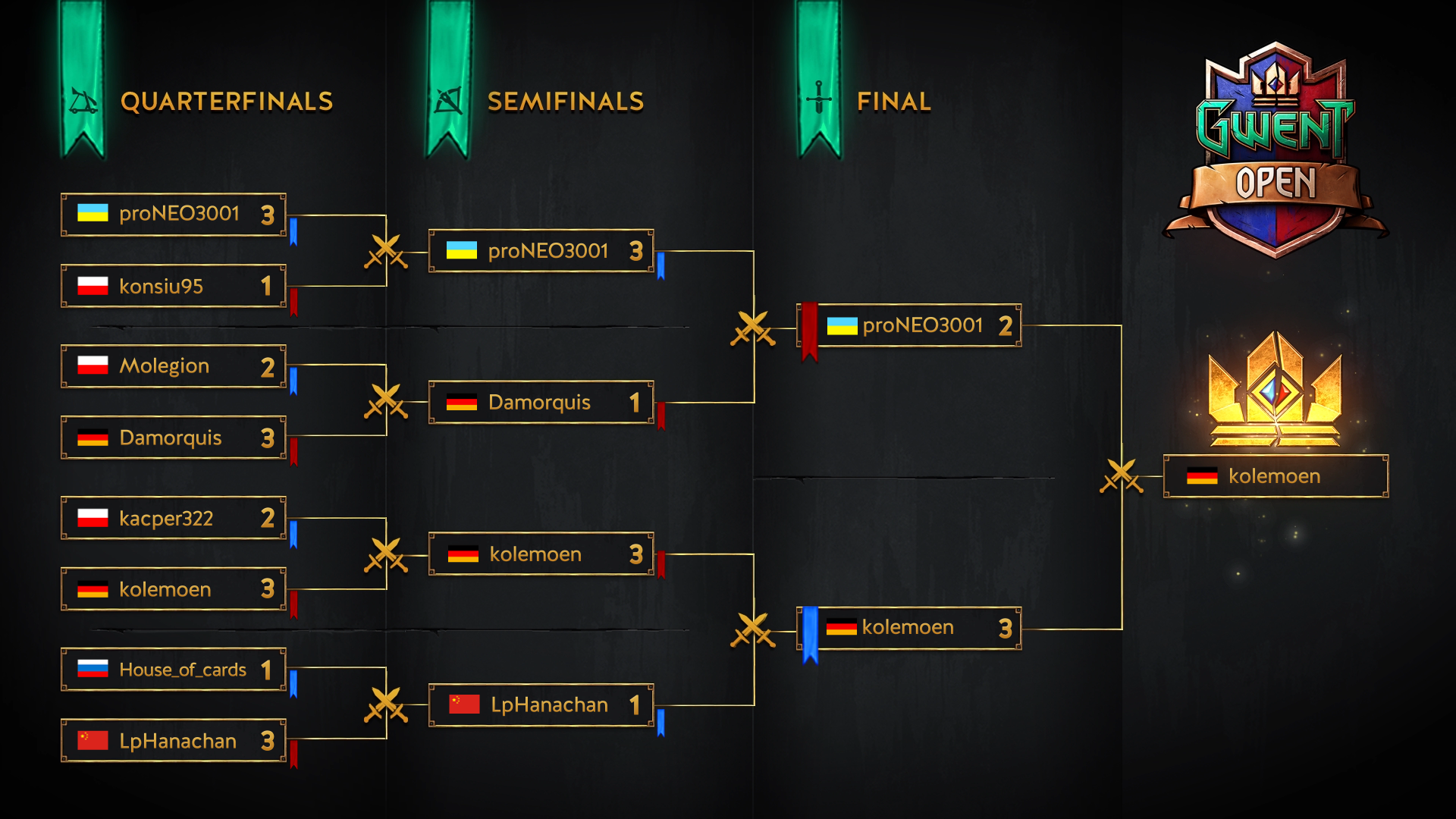 The final standings for the tournament:
WINNER
Benjamin "kolemoen" Pfannstiel (Germany)
FINALISTS
Benjamin "kolemoen" Pfannstiel (Germany) — $9,650
Oleksandr "proNEO3001" Shpak (Ukraine) — $5,200
SEMIFINALISTS
Zehua "LpHanachan" Zhao (China) — $2,500
Daniel "Damorquis" Morkisch (Germany) — $2,350
QUARTERFINALISTS
Krzysztof "konsiu95" Konsek (Poland) — $1,250
Maciej "Molegion" Kokosza (Poland) — $1,400
Kacper "kacper322" Sobkowicz (Poland) — $1,400
Dmitrii "House_of_cards" Shliakhov (Russia) — $1,250